4WD Specialists for 4WD Services & Repairs in South East Melbourne
We have been offering 4WD services & repairs in South East Melbourne and surrounding suburbs for the past several years. Our team has technicians who are tremendously capable of repairing and maintaining four-wheel drive (4WD) vehicles. We have equipment suitable for carrying out 4WD services & repairs at our 4WD service centre.
4WD vehicles enable people to experience various adventures such as wild road trips and camping tours. Such adventures should be filled with safety and comfort which is not possible without a properly functioning 4WD vehicle. To ensure that your next road trip brings enjoyment and not inconvenience in your life, you must keep your 4WD in the optimal condition.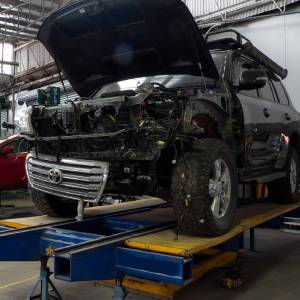 ⇒ We perform routine maintenance, mechanical repairs and logbook service for a 4WD.
⇒ We carry out LPG conversions, LPG gas tank testing, and LPG tuning & repairs for a 4WD.
⇒ We complete the job of accessory fit-outs for preparing a 4WD vehicle for a road trip.
⇒ We check every part and component of a 4WD vehicle by utilizing the best techniques.
Every 4 X 4 mechanic working at our centre is adept at conducting all types of upgrades and custom work for four-wheel drive (4 X 4) vehicles. We will provide you with a free quote for all 4WD services & repairs tasks so that you can take an informed decision.
Fully-Equipped 4WD Service Centre in South East Melbourne for 4WD Services & Repairs
A1 Gas & Mechanical Services Pty Ltd. is a well-known 4WD service centre in South East Melbourne and other areas. Owners of private and commercial 4WD vehicles, as well as fleet operators, depend on our 4WD specialists for their needs for 4WD services and repairs.
We can conduct repairs, replacement, and servicing of parts of 4 X 4 vehicles driven on petrol, diesel, and LPG. Every 4 X 4 mechanic at our workshop performs every task with meticulousness.
Why You Should Choose only 4WD Specialists for your 4WD?
Four-wheel drive vehicles operate differently than cars, and so, the technicians undertaking repairs and maintenance of 4WD vehicles should have specialized skills and tools. Getting your 4 X 4 vehicle inspected, repaired, and serviced by technicians who don't have the required skills or tools can do more harm than good. Therefore, you must choose only 4WD specialists to keep your 4WD vehicle in peak condition at all times.
We are recognized as a dependable 4 X 4 mechanic in South East Melbourne due to the presence of 4WD specialists in our team. Whether it's scheduled maintenance or a logbook service, our team can take care of anything and everything related to the four-wheel-drive vehicles.
No need to search for a trusted 4 X 4 mechanic in South East Melbourne and nearby regions anymore! Just visit our 4WD service centre and meet our 4WD specialists. To book an appointment, fill our enquiry form here!